Quick Facts
1. RuedX Berlin is not open but invitation only.
2. It is only open for groups not for single persons. The members of a group should dance regularly together. Forming groups just for signing up is not desired.
3. There are no "front row teachers". Everyone has the same status, even if some of the group leaders are teaching at big festivals.
4. The groups should be willing and able to contribute to the exchange and not only consume.
About RuedX
RuedX, short for Rueda Exchange, is an event where groups from many countries (cities) are invited to a host city for a series of workshops taught by instructors from those groups. Ethan Wagner came up with that wonderful idea! RuedX weekends are a fun way to share our knowledge and passion for Rueda; to travel, dance, and make new friends; to strengthen the Rueda community in Europe and around the world; and to keep growing and evolving from traditional Rueda.
To our RuedX in Berlin we invited innovative Cantantes from all over Europe with a maximum of 3 members of there Rueda group to share ideas. We really want to work on new ideas together, try them and see what works and what doesn't. We don't want to compete with festivals but to put the exchange character in the centre of attention. The people we invited are multipliers who will hopefully bring the ideas back to their Rueda communities.
Program
Day
Time
Action
Location
Thursday (optional)
18:00
Dancing outside
Schwedter Karree
20:00
Eating together
21:30
Party
Soda (Entrance fee: 8€, includes 3€ voucher for drinks)
Friday
14:00 - 17:00
Ruedatón
City (Gendarmenmarkt, Museumsinsel, Monbijoupark)
17:00 - 20:00
Break
20:00 - 1:00
Party
Bebop
Saturday
10:00 - 16:30
Workshops and Labs
Tanzraum Wedding
16:30 - 19:00
Break
19:00 - 20:45
Pre-Party Workshops
Forum Factory
21:00 - 3:00
Party
Forum Factory
Sunday
11:00 - 17:30
Workshops/Labs
Tanzraum Wedding
17:30 - 19:30
Break
19:30
Eating together
close to Soda
20:30
Party
Soda (Entrance fee: 8€, includes 3€ voucher for drinks)
For further details, have a look at the workshop schedule and the workshop explanations.
Public Transport
The public transport system in Berlin is very good. There are basically four means of transportation: underground-trains (U-Bahn), most of the time it rides under ground. There are city-trains (S-Bahn), most of the time they ride above ground. The cable-cars in Berlin are called Trams and of course there are busses (and night busses, too.)
Please note: most of the information about public transport pricing here is obsolete because in June you can buy a flat rate ticket for all German regional public transport for just 9 Euros that is valid for the whole month. It is valid in all regional trains in Germany and also in Berlin's subway and S-Bahn lines as well as all buses and trams. You can buy it at all ticket machines in S-Bahn and subway stations.
There are three public transport zones in Berlin. A is the center, B is a ring around it and C is an outside ring e.g. for the airport Schönefed you will need a Ticket for C. The workshops and parties are in zones A and B and you should easily be able to find accomodation also in A or B. There is a plan below that shows the zones.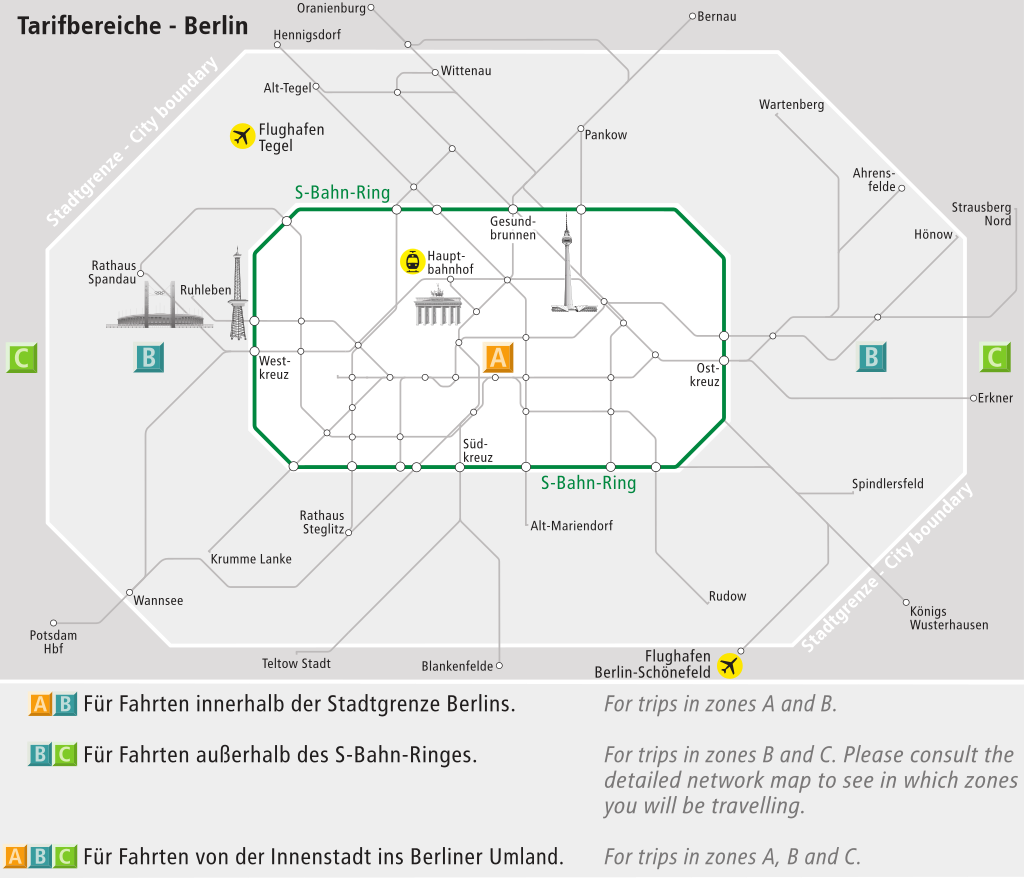 A single ticket for AB costs 3,00 Euros, a daypass is 8,80 Euros (So if you do three trips a day (to the workshop location, back to hostel/hotel/apartment and to the party location, the day pass is already better than the single ticket. The cheapest and easiest way to travel will be a city tour card (AB) either for 48 hours for 19,90 Euros, 72 hours for 29,90 Euros or for 4 days 38,90 Euros. If you want to stay longer there are more options. The ticket time starts once you buy it. That way you only buy a ticket once for the whole weekend.
If you arrive at the airport you will need another "Anschlussticket" (for the C zone) to get to the center (AB)
The BVG app is a good app to have: https://www.bvg.de/en. You can buy the tickets with pay pal on your phone and it will also show you how to get from one location to another. If you might want to combine the public transport with bicycles or eScooter you can check the jelbi app: https://www.jelbi.de/en/home/. It is advised to check the app at home, you might have to verify your data and credit card or pay pal account but then you are ready to choose many transport options.
If you have a question about the best ticket for you, please don't hesitate to write us at info@ruedx.de.
Locations & Map
The map below shows the workshop location and where the Friday and Saturday parties are. Click the map markers to get more information.